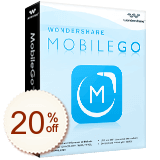 Wondershare MobileGo 20% sparen
Gutscheincode:
1 Year 1 PC
$29.95
Lifetime 1 PC
20% off $31.96
Begrenzte Zeit:
Wondershare MobileGo is a professional mobile phone management tool for Android devices and iOS devices. With it, you can easily manage contacts, organize messages, transfer files between mobile phones and computers, back up and restore mobile phone data, download videos, and so on.

Wondershare MobileGo can also help users to free up the space of their mobile phones and can also use it to effectively manage your mobile phones, including operations such as de-duplication, addition, deletion, and editing of address books, and even manage applications on devices for installation and deletion. Wondershare MobileGo not only supports data cable connection but also supports wifi connection.

Wondershare MobileGo features
* Download the free application
* Install or uninstall an application
* Backup application
* Export application to SD card
* Mass texting
* Import and export messages
more.
Tags
Spezifikationen
Version:

8.5.0

Hersteller:

Wondershare

OS:

Lizenz:

Lifetime / 1 PC
Kundenfragen und -antworten
🔔 Wondershare MobileGo for Android was downloaded successfully however, I followed the link on page which should have given me the 60% discount and I entered my information thinking the discount would be applied at checkout but it wasnt.
Answer
Thanks for your question! For your problem, please bookmark the this page first, and then clear the cookies of your browser. Lastly, restart your browser again or try to use another web browser.

Stelle deine Frage
Empfehlungen