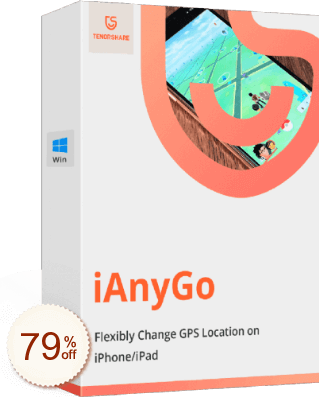 Tenorshare iAnyGo 84,5% sparen
Gutscheincode:
Please input the coupon code into the "Redeem Coupon Code" box at the checkout page.
2,625 der umsatz
1 Month Plan - 5 Devices / 1 PC / Free Update
71% off $6.94
1 Quarter Plan - 5 Devices / 1 PC / Free Update
53% off $13.95
1 Year Plan - 5 Devices / 1 PC / Free Update
44% off $27.97
1 Month Plan - 5 Devices / 1 Mac / Free Update
68% off $10.44
1 Quarter Plan - 5 Devices / 1 Mac / Free Update
85% off $13.94
1 Year Plan - 5 Devices / 1 Mac / Free Update
80% off $41.95
Begrenzte Zeit:
iSpoofer cannot be installed? Worried about the account being locked?

Switch to iAnyGo's super-safe baokemeng plug-in tool

The reason why the account is locked by using iSpoofer is related to the official determination that players' GPS positioning movement should not be too fast in a short time. The three modes of Tenorshare iAnygo can simulate the speed of walking, cycling, etc., allowing you to freely plan the desired walking route and moving speed, which can reduce the probability of the account being locked. Besides, the advantage of iAnyGo is to install the program on the desk and safely modify its positioning after connecting the mobile phone. Still, it will not affect other mobile phone functions, so there is no need to worry about hurting the mobile phone.

Important functions of Tenorshare iAnyGo:
• You can freely change the GPS location and move to all places of the world anytime, anywhere.
• Pokémon Go iOS assistant artifact can set detailed moving routes and moving speeds, such as walking, cycling, or riding speed. You can really and naturally simulate walking, catching treasures, and upgrading in a particular area without going out.
• iPhone virtual positioning with one-button to prevent being tracked.
• Perfect change of all APP locations on iPhone, such as FaceBook, Google Map, photo location, Find My iPhone, etc.

In addition to helping you become a master of Baokemeng, Tenorshare iAnygo can also modify the dating APP's positioning. Some software can only recommend friends according to your location. If you want to know the stylish men in Europe and America or the Ouba in Japan and South Korea, you can help through iAnygo. Of course, you can't go abroad, or you want to punch in. You can also use Tenorshare iAnygo to visit the famous scenic spot "Online Tour" at any time.

When you want to exit the iAnyGo, you only need to restart the mobile phone, and the GPS position will return to the real GPS position, which is very simple and convenient to use. However, you should note that changing GPS is not equal to the VPN, so it is impossible to conduct network behavior restricted by domain.

During the outbreak, our range of movement was greatly limited. However, with Tenorshare iAnygo, you can enjoy online freedom, and you can grab treasures or punch cards at will. Still, it is not recommended to use them for any illegal purposes. If you are still looking for a safe third-party tool of Pokémon GO to play games, Tenorshare iAnygo will be a right choice.
Spezifikationen
Version:

Letzte Version

Hersteller:

Tenorshare

OS:
Kundenfragen und -antworten
Empfehlungen