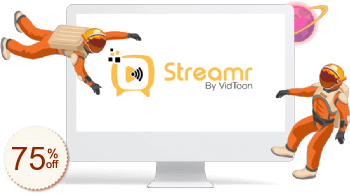 Begrenzte Zeit:
Streamr is the only desktop-app multilingual video translation with built-in live streaming technology. You can translate your video and transcribe text out according to the video. What's more, you can translate the audio from your video, a translated voice will replace the original speaker, and the translated caption will be added to the subtitle. All these amazing functions can be done with just by few clicks! Yes, it has a crazily simple interface, and it is extremely easy to use!

By the way, going global is not optional anymore, it's the only way forward. You don't need any language skills or technical experiences, Streamr offers a complete solution from providing video translation, transcription, captioning, etc., all the way to voice-overs & subtitles. It's time to tear down barriers and take your video marketing!

Major Advantages of Streamr:
1. Automatic transcribes original voice into any available language text within seconds.
2. Automatic places transcribed texts according to the timeline.
3. Automatic extracts audio into captions.
4. Automatic set captions at the correct time along with the right place in the video.
5. Automatic translates caption into your target language.
6. Automatic replaces original voice into translated language's speaker voice.
7. Maintain original voice effects and voice animation.
8. 100% Whitehat and approved software, making sure your accounts are fully safe.
9. Commercial license included, you can make your own profits.


Spezifikationen
Kundenfragen und -antworten
Empfehlungen