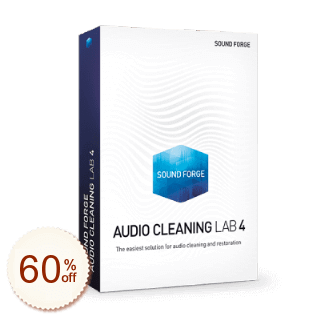 Single Lifetime Use License
40% off $59.99
Begrenzte Zeit:
SOUND FORGE Audio Cleaning Lab is a powerful audio cleaning and repairing software developed by MAGIX Company, which can comprehensively clean and remove the noise in audio, enhance the main sound at the same time. At present, SOUND FORGE Audio Cleaning Lab has supported recording sounds in tapes and recordings and supported the import of sounds from CDs and videos, which can easily remove unnecessary noises and then export them to MP3, WAV OGG, and FLAC. The new version adds new features, such as iZotope RX 7 Elements, which can more easily eliminate noise; Added iZotope Ozone 9 Elements, which can perfectly master music and recording for streaming media, radio, or CD.

SOUND FORGE Audio Cleaning Lab spots
1. Record a single, complete album quickly and easily.
2. Transfer albums, singles, and EP to your computer. Original CD will automatically receive track information and CD cover.
3. Import the video file and start editing the audio track immediately.
4. Spectrum, different frequencies of channels can be seen visually. Therefore, it can accurately eliminate individual noises.
5. Using Limiter or DeClipper, you can prevent overmodulation or delete it in advance and solve the volume fluctuation during recording.
6. Direct access to all effect parameters for sound optimization.
7. Cracks in the recording of color vinyl discs can be quickly and easily removed by using presets with different strengths.
8. Eliminate the typical camera noise of the old camera by preset or separate adjustment.
Tags
Spezifikationen
Version:

3

Hersteller:

MAGIX

OS:
Kundenfragen und -antworten
Empfehlungen