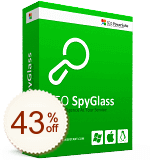 Professional - Single User / 1 Year / Free updates
34% off $98.93
Enterprise - Single User / 1 Year / Free updates
43% off $198.93
If you are a webmaster or SEOer and need a good website optimization analysis tool, SEO SpyGlass is good. It is a website optimization analysis tool for webmasters or SEO users, based on four main functions: website connection, website weight, website inclusion, and comprehensive SEO analysis, to evaluate the website and make some suggestions for website optimization. SEO SpyGlass is not only limited to the functions mentioned above, but it can also analyze your competitors' websites for you.

The most powerful feature of SEO SpyGlass is the analysis function, which includes analyzing competitor websites and your website. It is specific to the search engines of different countries. Enter the address of your competitor's website and the keywords you want to query, and select one or several of the leading search engines used. SEO SpyGlass will automatically perform the analysis. The analysis process can be long, but it's worth it because the final report it generates will not disappoint you. SEO SpyGlass analyzes all the pages under the query site, including the site's Alexa ranking, the weight of each specific page in the search engines, keyword concentration, friend links, backlinks... and so on.

In a word, SEO SpyGlass is a website analysis aid, which can make a comprehensive analysis based on website weight, inclusion, etc., and make some relevant suggestions for website advantages. The analysis is powerful, and the report generated according to the website situation is professional. It also gives SEO optimization suggestions.

The Main Features
1. Enter the URL of your competitor's website directly to get a comprehensive analysis of that website.
2. The analysis includes the analysis of competitive websites and your website.
3. Automatic analysis is available.

Spezifikationen
Version:

6.53.5

Hersteller:

Link-Assistant

OS:

Lizenz:

Professional, One-Time Fee
Kundenfragen und -antworten
Empfehlungen