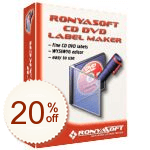 RonyaSoft CD DVD Label Maker 20% sparen
Gutscheincode:
Home License
20% off $15.96
Business License
20% off $23.96
Enterprise License
20% off $396.00
Begrenzte Zeit:
RonyaSoft CD DVD Label Maker is a CD label and covers design software. It's easy to use. You can design beautiful CD cover labels with only a few simple steps using abundant CD/DVD labels and cover templates. You can make labels and covers quickly after simple modification. It supports a variety of label printers and very easy to use even if you are a novice.

RonyaSoft CD DVD Label Maker (CD cover making software) is a functional and practical CD/DVD label and cover making tool. How to make a CD cover? RonyaSoft CD DVD Label Maker's easy-to-use wizard interface enables you to design beautiful labels and covers for videos, CD and photo slides, and backup data CDs. RonyaSoft CD DVD Label Maker provides a large number of CD cover templates! All you need to do is select a pre-designed template, write a title and description, or load an image or write a tracklist. Then set up printer and paper, and print your label with label paper and standard printer or CD label printer.
Tags
Spezifikationen
Version:

3.2.22

Hersteller:

RonyaSoft

OS:

Lizenz:

Home license
Kundenfragen und -antworten
🔔 Can I save the created disc artwork to a JPeg or any other format?
Answer
Dear customer,You may export label/cover to image or PDF to print on other PC without RonyaSoft CD Label Maker installed.More info here:
https://www.ronyasoft.com/products/cd-dvd-label-maker/help/saving_a_document_as_an_image_pdf.htmlDo not forget to update to the latest version of the software.It works fine for covers. But for labels, you have to find a way to specify correct printout placement manually.

🔔 I have lots of Avery label pages for CD,DVD labels and box covers, etc. Does this program work with any of those labels? If not, what do I use to print CD labels after I have made them on your program?
Answer
Dear customer,Sure, software supports Avery labelsYou have to switch to CD tray in the printer settings first. Menu FIle-Printer Setup.
Then on the print stage you have to choose CD Surface and select CD Printer from the drop-down list in the Setup Printout dialog.More info:https://www.ronyasoft.com/products/cd-dvd-label-maker/tutorials/how_to_print_a_cd_label/Keep in mind: Standard Label with bleeding has bleeding area 4 mm outside the disc to print on label stocks.To print on CD printer just use Standard Label template without bleeds.

🔔 Does it have a standard template for print the covers of a double cd case?
Answer
Dear customer,Thanks for your question. RonyaSoft CD DVD Label Maker supports template library includes standard and full-face labels, single and double CD case inserts, standard and slim DVD box covers, Blu-Ray covers and case inserts, paper sleeves or origami CDs. In other words, it provide users with templates for Audio CDs, MP3 discs, data archives, DVD movies and movie collections.If still any questions, feel free to ask us.

🔔 I have a Canon MG5460 printer. Others like it are listed on your site as compatible, but my specific one is not. Please check if this was an oversight, or will it not work with your software?
Answer
Dear customer,Thanks for your question. Actually, Whether to print CD LABEL is no matter with the software, as long as you make sure your printer support the CD-print, then you can sue the software. We've helped you check it, and find MG5460 support DVD/CD Printing. According to this video, you will learn how to use the printer's DVD / CD Printing function.

🔔 I have a new Canon MX922 all in one printer that prints on printable CD. Does your program work with this model of printer?
Thanks
John
Answer
Yes, RonyaSoft CD DVD Label Maker supports Cannon MX922, you can check supported printers on this page:http://www.ronyasoft.com/products/cd-dvd-label-maker/de/printers/

Stelle deine Frage
Empfehlungen