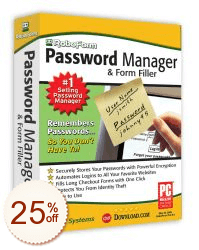 Individual
25% off $17.91
Family
25% off $35.81
Business
35% off $779.02
Begrenzte Zeit:
Roboform is a well-known password management software. It can save the login account and password of the website and remember the address, name, telephone, and other information, fill in all the content with one-click next time and save your time.

Roboform is perhaps the most secure password management tool in the world. It has never been leaked. It is the most famous and reliable software of its kind.

When it comes to the password login function, many browsers also have this function, but it is often impossible to synchronize multiple platforms. Roboform Everywhere can achieve full platform synchronization; that is, one serial number can activate all platforms' Roboform versions. If you use Roboform, Roboform can use it to synchronize all platforms. After connecting this account, your password stored on the Windows platform will be automatically synchronized to other platforms. For example, when you log in on iPhone/Android/Mac, your data can automatically fill it in without having to store it again.

How secure is Roboform Everywhere?
Lastpass, a similar password management software, has been attacked twice by hackers, revealing the user's password, which worries many people. However, Roboform has a longer history. The highlight of Roboform is that there has never been a safety door incident. Roboform is proper black technology. In addition to the password you need to log in to the Roboform Everywhere account, there is a master password to log in. In this kind of double protection, your password is firmly protected.

What are the advantages of Roboform compared with the browser's password manager?
1. After the system reinstallation, all the storage is lost.
2. The browser can only fill in simple information, but it can't deal with complex data, such as an address, credit card, name, telephone, and so on.
3. The password stored in the browser cannot be synchronized between different computers / mobile phones or even between other browsers.
4. The security of the password stored in the browser is worrying. The computer you have used can also log in to your other accounts when others use it.

Roboform can solve all the above problems, ranks first in the world among similar software, and has never been broken by any hacker.
Tags
Spezifikationen
Version:

9.1.9.9

Hersteller:

Siber Systems

OS:

iOS

Lizenz:

One Year subscription for all your PCs and mobile devices
Kundenfragen und -antworten
Empfehlungen