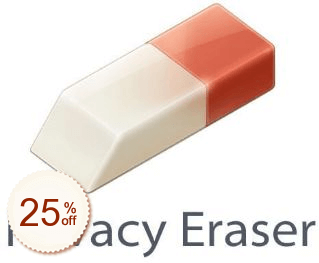 Privacy Eraser Pro 50% sparen
Gutscheincode:
Receive 25% discount Privacy Drive 1 Year License
3,671 der umsatz
1 Year
50% off $19.97
Lifetime
25% off $59.96
Privacy Eraser Pro is a system cleaning software that is very useful for cleaning up junk files, system caches, browser cookies, etc. It helps users quickly clean up traces of their computer and web browsing. It can effectively protect your privacy by cleaning up all Internet history tracks and past computer activities.

Privacy Eraser Pro supports all major popular web browsers, including Internet Explorer, Microsoft Edge, Firefox, Google Chrome, Safari, and Opera. It's very easy to use, and you can delete all privacy-related cookies, search history, access history, passwords, etc., with just one click.

Privacy Eraser Pro also supports plug-ins to extend the cleaning functions further, which means you can also use your own plug-in to delete any tracks left by other apps. It embeds more than 250 free plug-ins and supports many popular programs, such as ACDSee, Adobe Reader, Microsoft Office, WinZip, WinRAR, Windows Media Player, VLC Player, BitTorrent, Google Toolbar, etc.
Tags
Spezifikationen
Kundenfragen und -antworten
Empfehlungen