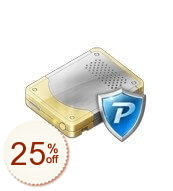 Privacy Drive 50% sparen
Gutscheincode:
Receive 25% discount Privacy Eraser Pro 1 Year License
400 der umsatz
1 Year
50% off $19.97
Lifetime
25% off $59.96
Privacy Drive is a useful software program that is used to protect various sensitive data and privacy files. Suppose we have some essential sensitive data and privacy files on the computer. You might as well use Privacy Drive to lock and hide these files to ensure data security.

Privacy Drive uses reliable and proven algorithms in the industry. Among the selected algorithms is the advanced encryption standard AES, which NIST specified as the standard for protecting sensitive information by the US federal government. In addition, by using virtual disk and "dynamic" disk encryption technology, Privacy Drive makes security as simple as using a hard disk. You can create, save, and open files as before. As long as you put them on the virtual disk, they will be automatically encrypted or decrypted during operation.
Tags
Spezifikationen
Kundenfragen und -antworten
Empfehlungen