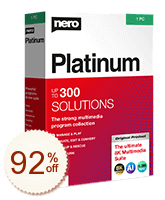 2021 One-Year license
30% off $34.96
2021 Permanent license
30% off $90.96
Platinum Suite Bundle (10 Giveaways Included)
91% off $34.98
Flash Sale 2021 One-Year license (2 Giveaways Included)
59% off $49.93
Begrenzte Zeit:
What's new in Nero Platinum Suite 2021?
* Nero AI Photo Tagger - Help you category and manage your photos.
* Nero Start - Quick access to specific software
* HDR Video - HDR feature for Nero MediaHome
Nero Platinum Suite is one of the top-level software for CD-ROM editing and cloning. It provides many functions such as recording, copying, editing, ripping, and conversion, including top-level video and audio editing tools. It is a comprehensive multimedia solution.
Nero Platinum Suite is a 7-in-1 Multimedia Suite, including:
* Nero DuplicateManager Photo - Clean duplicated photos
* Nero Video - Fast create video and slideshow
* Nero Media Home - Multimedia manager
* Nero BackItUp - Data backup
* Nero Recode - Video&Audio converter
* Nero TuneItUp PRO - Optimize and accelerate computer
* Nero Burning ROM - CD, DVD, and Blu-ray burner
Tags
Spezifikationen
Version:

2021

Hersteller:

Nero

OS:

Lizenz:

1 PC / 1 Year
Kundenfragen und -antworten
Empfehlungen