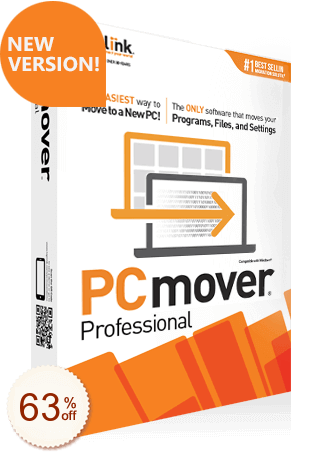 Laplink PCmover giveaway & 80% sparen
Gutscheincode:
Please add the "&COUPON=j0k-fiv-1w1" at the end of the checkout URL to get the 80% OFF.
7,226 der umsatz
GIVEAWAY - Express, Lifetime, Noncommercial user
100% off $0.00
Home Lifetime (1 source PC to 1 destination PC)
15% off $33.95
Professional Lifetime (1 source PC to 1 destination PC)
80% off $11.99
Windows Upgrade Assistant Lifetime (1 PC)
15% off $25.45
Image & Drive Assistant Lifetime (1 PC)
15% off $33.95
Begrenzte Zeit:
If you attempt to copy all your files, applications manually to a new PC, it will take ages to complete, and there's still a chance you might miss something. Laplink PCmover is an excellent PC migration solution that can automatically migrate all the files, applications, user profiles, settings, operating system from an old PC to a new PC. A single purchase of Laplink PCmover allows users to move as many attempts as needed from one source computer to one destination computer.

Most of the transferred applications are installed and ready-to-use on the new PC, saving lots of hassles from finding the old CDs, serial number, and license code to download again. However, some programs with unique copy protection, files with Digital Rights Management may still require deactivation from the old PC and re-entry of a serial number and original keys on the new PC.

*Note
Laplink PCmover will not move specific hardware drivers, Antivirus programs to the new PC.
Some programs may not be compatible with the newer operating system.
Not designed to migrate from a newer operating system to an older operating system. For instance, migrate from a PC running Windows 7 to a PC running Windows XP.
If users find applications cannot be deactivated on the old PC, please contact the software manufacturer.
Tags
Spezifikationen
Version:

10

Hersteller:

Laplink Software

OS:

Lizenz:

A license is for a single user
Kundenfragen und -antworten
Empfehlungen