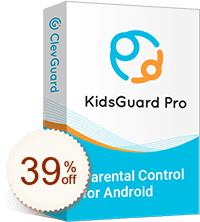 KidsGuard Pro 40% sparen
Gutscheincode:
Please enter the coupon manually to activate 40% discount.
Android 1-Month Plan
30% off $20.96
Android 3-Month Plan
40% off $29.97
Android 1-Year Plan
30% off $69.96
iOS 1-Month Plan
30% off $27.96
iOS 3-Month Plan
33% off $40.16
iOS 1-Year Plan
31% off $75.86
iCloud 1-Month Plan
30% off $20.96
iCloud 3-Month Plan
40% off $29.97
iCloud 1-Year Plan
30% off $69.96
Begrenzte Zeit:
Nowadays, smartphones are quite common. Even children in kindergartens know how to play with mobile phones and tablets. But do parents feel at ease that children are using these devices to surf the Internet and read some Internet information? Don't you worry about how children make friends on the Internet? What kind of photos and movies have they seen, or have they talked to someone on the phone, who they have been to and where they have been?
Kidguard Pro is a security monitoring software for parents. You don't need to jailbreak the iPhone or root Android device. You can use the web browser to monitor children's use of iPhone and Android at any time. Kidguard can also track children's location and where they have been and even view the photos, videos, calendars, memos, messages, communication, and so on stored in the device. All the contents can be viewed remotely in real-time.
What information can you get from Kidguard Pro remotely?
•Phone call records
•Content of SMS
•Current location of mobile phone (very accurate)
•browsered webpage
•Viewd photos
•Watched videos
•Screen shot of mobile phone (see the current mobile screen)
•Message records of communication apps include KIK, Viber, Line, WeChat, etc.
If you want to use Kidguard Pro, you need several permissions to use it properly.
Need iCloud account and password
If you want to monitor your children, you must obtain the Apple ID and password.

Turn on two-factor authentication for Apple ID
After iOS 11, the iOS system will automatically turn on two-factor authentication. After obtaining the Apple ID and password, you need to pass the two-factor authentication to enter normally. You need to do it once, and the subsequent shutdown and restart of the Kidguard will not need to be authenticated again. The fastest way is to create the "app password" directly to avoid authentication when you want to change the device.

Need to create a Kidguard account
Tags
Spezifikationen
Version:

Letzte Version

Hersteller:

ClevGuard

OS:
Kundenfragen und -antworten
🔔 Gibt es die Installationsanweisung auch auf Deutsch?
Wie kann bezahlt werden? Das Zielobjekt und ich haben ein gemeinsames Konto. Kann ein Freund für mich per Überweisung zahlen? Braucht der Freund eine Kreditkarte?
Answer
Thank you for your question. Kindly note that our product doesn't have German instruction now.
And we accept many kinds of secure online payment as below:
1. Credit Card: Visa, MasterCard, American Express, JCB, Discover, UnionPay.
2. PayPal

🔔 does this app works on unrooted android phone?I bought 2 spy app ,but the social media doesn't work.so I wanted to make sure that it will work on uprooted android phone for social media.
Answer
Thanks for your question. KidsGuard Pro is available for: unrooted Android 4.0 - Android 10.

Stelle deine Frage