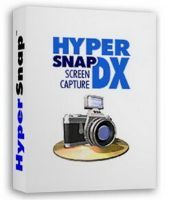 New Licenses
20% off $31.96
Upgrades 8
$19.95
If you need to create online tutorials, manuals, handouts, marketing materials, web pages, or emails, HyperSnap is an ideal tool for you. It can capture Windows screen and has various image editing utilities including crop, resize, mirror, stamp, rotate, frame, add filters, highlight, arrow, color change, etc. The results can be saved to your hard drive for later use, and the interface is fully customizable. If you purchase HyperSnap version 8, the future releases 8.xx and updates are all for free.

Additional Features
1. Capture images from the screen or multiple monitors in any size or shape.
2. Unlimited undo or redo.
3. Various powerful editing tools.
4. Button capture.
5. Auto-scrolls.
6. A customizable interface that users can rearrange toolbars and menus the way you want.
7. Free-hand capture, FTP server uploads.
8. Support over 20 image format converters.
9. Control HyperSnap by voice commands.
10. And much more!
Tags
Spezifikationen
Kundenfragen und -antworten
Empfehlungen