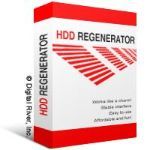 A license for a single user, lifetime
If your hard disk has bad sectors, it will bring you the negative effects of computer use and may lose the stored information. Can the bad sectors of the hard disk be repaired? Can that unreadable damaged information also be restored? HDD Regenerator can solve these problems.

HDD Regenerator is a hard disk repair tool that can repair the hard disk's physical bad sectors. It is not simply shielding bad sectors but regenerating bad sectors by reversing the magnetism, repairing unreadable damaged information, and bringing your hard drive back to life. HDD Regenerator supports a variety of interface types of hard disks and is not restricted by any file system format. It supports unpartitioned hard disks and FAT, NETF, EXT3, HFS, and other formats.

Main Features
1. It can clear the bad physical sectors on the hard disk surface
2. Can recover damaged data (recoverable unreadable data)
3. Support multiple hard drives
4. Support to start DOS interface from CD/DVD boot program
5. Support 4k hard disk sector
6. Support pre-scan mode, which can be used to determine the location of bad sectors quickly. If the hard disk has a large number of bad sectors, it will save you time.
7. It ignores the file system but scans the disk at the physical level. It can be used for FAT, NTFS, or any other file system and supports unpartitioned or unformatted disks.
8. Easy to use, without any complicated settings, you don't need to change many complicated and unnecessary settings. It has established the best performance and results for you.
Spezifikationen
Kundenfragen und -antworten
🔔 I'd like to purchase hdd-regenerator from you, however the price given on your offer page, $73.99, differs from the price on the checkout page I'm redirected to https://shopper.mycommerce.com/checkout/cart/view, $79.99, for making the payment. Can I get this product for $73.99?
Answer
Dear Customer,Thanks for your feedback, we've checked for the discount coupon of the product hdd-regenerator, and we find it is still valid.For your problem, please bookmark the product page first, and then clear the cookies of your browser and restart your browser again, or try to use another web browser, and the problem will be fixed, you'll get the discounted price $73.99. If still any problems, feel free to contact us

Stelle deine Frage
Empfehlungen