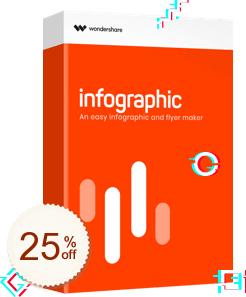 Subscription License
30% off $48.30
Perpetual License
55% off $44.94
Lifetime License
30% off $104.30
Begrenzte Zeit:
Edraw Infographic is a graphic design software tool that integrates information diagrams, posters, leaflets, color pages, magazines, certificates, newspapers, brochures, etc. It has powerful drawing tools to draw new elements and supports image cutting and Cutout. With its help, users can design and draw pictures, which can greatly shorten the working time and improve chart production efficiency.

Edraw Infographic supports Linux, Windows, and Mac OS. It has built-in more than 10,000 vector elements, including some basic graphics, decorative elements, commonly used illustrations, etc. It has powerful drawing tools to draw new components, and it also supports image clipping and cutouts. It is simple to use, drag-and-drop operation, accessible layout, time-saving and efficient. You only need to drag out the chart elements, drag the control points above with the mouse, and adjust the values ​​you want at will, which is very convenient.

Edraw Infographic has rich functions. It allows you to edit any information graph you need directly in the software interface, providing a large number of symbols. It also supports adding graphics, adding icons, adding shapes, adding text blocks, and adding pie charts, ring charts, and column charts. You can find a kind of histogram in the software and start inputting data content, inputting notes, inputting attachments, adjusting the style of the infographic, and saving the designed infographic so that you can add it to graphic design software or PPT for use. If you need to make an infographic, you can try Edraw Infographic.
Tags
Spezifikationen
Kundenfragen und -antworten
Empfehlungen