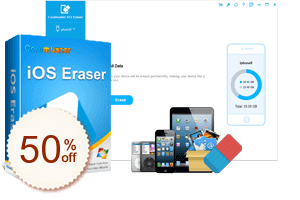 1 Year / 1 PC / Free Upgrade
50% off $12.97
Lifetime / 1 PC / Free Upgrade
50% off $17.97
1 Year / 5 PCs / Free Upgrade
50% off $17.97
Lifetime / 5 PCs / Free Upgrade
50% off $22.97
1 Year / 10 PCs / Free Upgrade
50% off $32.97
Lifetime / 10 PCs / Free Upgrade
50% off $42.97
Begrenzte Zeit:
When you are going to sell, donate or trade your old iOS devices, you'd better clean it up completely, because it might lead to your information leakage. In order to protect your data from theft on your old iOS devices, here I recommend you to use Coolmuster iOS Eraser. It has the ability to remove all types of data on your devices and promise no possibility of recovery from any software. All you need to do is just connect your iOS devices to your computer, select an erasing level, and then press "start" button. Because so intuitive and straightforward its interface is, you will directly know what to do if you open this software.

Take A Closer Look at Coolmuster iOS Eraser:
owing to the advanced data scanning and detecting technology, Coolmuster iOS Eraser provides three erasing levels:
1. The low level only erases your ordinary data quickly to save your time.
2. The medium level will delete all traceable data wreckages and rewrite all existing and deleted data space to ensure no traceability remains.
3. The high level is the safest option to overwrites all your data twice so that it couldn't have any possibility to recover.

Coolmuster iOS Eraser Features:
1. Erase all files from your iOS devices, no matter what types they are.
2. 100% permanently and 0% possibility to restore.
3. 3 progressive erasing levels: Low level, medium level, and high level.
4. Works on all generations of iOS devices, including iOS 14.
5. User-friendly and easy-to-use interface.
Tags
Spezifikationen
Kundenfragen und -antworten
Empfehlungen