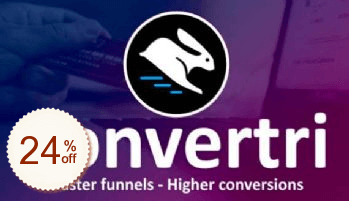 10 Custom Domains - Monthly Price/Annual Purchase
24% off $74.94
10 Custom Domains - Monthly
$99
Begrenzte Zeit:
Your customers won't be waiting around. A research by Google shows that 53% of people leave your mobile page if it takes more than 3 seconds to load. And that's why you should use Convertri.

Convertri has it's accelerates page technology, from which it builds the fastest landing pages on the web. Under this technology, your website will be fully loaded in less than 1 second. Everything just likes they were already there, say goodbye to wasted boring time!

Take a Closer Look at Convertri :
1. Convertri Accelerate Page Technology:
Convertri builds the fastest landing pages on the internet. Use Convertri, create the quickest landing pages, sales funnels, and even the entire website, and watch your conversions soar.

2. Recreate All Your Pages in Convertri by Only One Button:
No extra cost for recreating a web page. Point the page importer button, you'll get a clone, and also, you can make further editing whatever you want.

3. Flexible Page Editor:
Convertri's page editor is well equipped with an unparalleled control system over every web page. No rows, no sections, no columns. Everyone can build their page as their wishes. What's more, convertri allows you to edit with your desktop computer and also your mobile phone!

4. Ready-Made Content Blocks:
Convertri provides a range of ready-made headers, footers, forms, and other sections that look pixel-perfect every time. You can collect what you like, build them together, and create your pages in seconds.

5.Boost Conversions With Interactive Video:
Convertri allows your web page change, or buttons to appear only if your video has reached a certain point, even if they have paused it or skipped a section.




Spezifikationen
Kundenfragen und -antworten
Empfehlungen