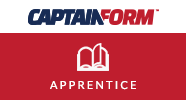 APPRENTICE
20% off $28.00
MASTER
20% off $76.00
HERO
20% off $156.00
Begrenzte Zeit:
For business purposes, you can use form creation software to build forms to collect a payment, leads, surveys, registrations, and lots of other information. But choosing a tool through which you can design a beautiful and functional form is quite challenging. Why? Now, users are more inclined to fill out forms that are easy to understand and beautiful. However, if they find that it is different, they may not fill it up & all your efforts will be wasted. |Top Form Creation Software That's why we mentioned some of the best form creation tools in this blog, including various features and add-ons. This kind of software contains huge features such as drag and drop options, custom designs, a collection of online payments, etc.

CaptainForm has 3 pricing plans: A basic plan will cost you $0/m. You will get some functions, such as creating 5 forms, adding 10 different fields on the form, and no storage space. The gold plan will cost you $24.99/m and $249.9/y to provide you with unlimited API calls, mobile platform support, and a collection of included form templates. The Platinum Plan costs US$44.99 and US$449.9 per year and includes services such as 20,000 form submissions, real-time form generators, third-party application integration, and internal technical support.

The Main Features
1. With its drag and drop function, you can build web forms in a few clicks. In addition, you can also insert some fields in the form in a simple way, such as name, contact, email, address, etc.
2. You can choose any pre-built templates from the given templates and customize them as needed.
3. With this software, you can easily store or manage form data in a systematic way.
4. In addition, it also provides you with an advanced security system. For example, as long as the user submits the form, you can add a password, quiz, or verification code to the form.
Tags
Spezifikationen
Version:

Letzte Version

Hersteller:

CAPTAINFORM

OS:

Lizenz:

Apprentice Plan
Kundenfragen und -antworten
Empfehlungen