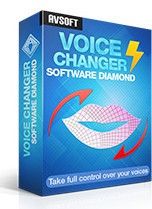 English version - Lifetime Access
50% off $49.97
Italian version (€69,95)
30% off $69.96
Begrenzte Zeit:
How to change male voice to female voice in real-time in the game?

Some friends want to communicate with their teammates without their original voice in the game or change the male voice to the female voice and Doby teammates. We found that many tutorials teach you to send recorded voice packets in the game, but this method is inflexible and easy to be heard by teammates. AV Voice Changer Software Diamond can realize real-time voice change; that is, when you speak, your voice changes through audio processing without delay.

What is AV Voice Changer Software Diamond? It is a very powerful voice changing software, which can easily change your voice into various sounds like Loli sounds, uncle sounds, children sounds, and even animal sounds. It is not a problem to change men to women and women to men. It is an essential tool for playing the voice, and the voice is real. It is also a pleasant thing to tease your friend after changing your voice when he calls. Start your spoof trip quickly!

AV Voice Changer Software Diamond can record and change programs such as online voice, video calls, live broadcasts, games, internet phone, etc. it is a powerful tool to realize voice change. Of course, VSD can use not only people's voices but also music and sound effects. It is exciting and has a good time!

AV Voice Changer Software Diamond supports a variety of voice changing applications, which can complete various voice changing processes, such as adding dubbing for audio and video clips, reports, explanations, and voice mails. Or imitating anyone's voice, creating animal sounds, changing song sounds, and so on. It can also support online real-time voice change and support real-time voice change during Skype, eyebeam, and other VoIP calls.

In addition to the rich real-time voice change processing features, it can imitate all kinds of people's voices or animals' voices in theory by using its unique dubbing editor, voice comparator, and voice imitator. You can even imitate a movie star's voice.

Pay attention to the funny and changeable voice. Don't miss this changeable voice tool. AV Voice Changer Software Diamond is an exciting voice-changing tool that can change the voice in real-time. It comes with a variety of high-quality male and female voice sounds and rich voice effects. It is fully compatible with popular chat rooms and Internet phones, Chat programs, and video conferencing software! Imagine you use aliens' voice!

AV Voice Changer Software Diamond is very convenient to change various sounds so that people can not hear the real person's voice with a variety of special effects and tuning options.

Features of AV Voice Changer Software Diamond
-High-quality audio output: advanced algorithm, combination setting: conversion, debugging, improvement, equalization, etc.
-Compatible with a variety of instant messaging programs, Internet telephony programs, etc.
-Friendly interface and changeable skin.
-The best game mode for online games can maintain excellent game performance with low bandwidth and CPU usage.
-Over 50 kinds of sound effects and 100 kinds of funny sound effects are available in the sound resource manager, containing multimedia sound effects to create unique sounds.
-Advanced equalizer, sound quality booster. Ready-to-use equalizer, noise reduction, and sound limiter.
-Create up to 54 animal sounds with your own.
-Use your voice on the microphone and add or load one of the 15 funny sound effects as the background sound.
-Capture chats, webcasts, and record any sound, sound effects, or music clips from any resource.
The built-in MP3 player, equalizer, sound effect, and clipping can play most music formats.
-Voice comparator, celebrity voice samples, import other people's voice, and compare any voice.
Tags
Spezifikationen
Version:

9.5.33

Hersteller:

Audio4fun (AVSoft)

OS:

Lizenz:

Diamond edition, a license is for a single user, lifetime
Kundenfragen und -antworten
Empfehlungen