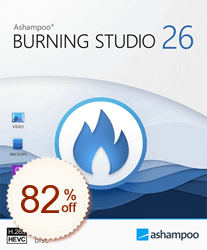 Ashampoo Burning Studio giveaway & 70% sparen
Gutscheincode:
Please replace the coupon 'HAW-82K-RP5' with 'TGG-UA9-5ND' manually in the URL in the shopping cart to activate the discount.
3,152 der umsatz
GIVEAWAY - Lifetime free, No free tech support
100% off $0.00
Lifetime
70% off $14.99
Begrenzte Zeit:
If you need to burn your music, movies, videos, photos, and other multimedia files to CD, DVD to backup or convert formats, then Ashampoo Burning Studio is a good choice. It is a powerful and easy-to-use CD/DVD burning tool. It supports 255-character DVD file names and 64-character CD file name. It also supports more than 1500 kinds of CD, DVD ROM Burners, and car radios. There is no complicated setting and operation, and you can burn your files with simple clicks.

Ashampoo Burning Studio can help you quickly burn media files to the disc. Its burning speed is very fast, but it still makes sure your media files without data loss. It also has an easy-to-use built-in video editor — only a few clicks to cut and piece together the video and add a piece of background music.

It is worth mentioning that the software has a scratch protection function in the current version. Everyone knows that the reason why CD-ROM data storage devices will be eliminated, so it is difficult to use for a long time. The software can save the data to the CD in an emergency recovery method through a unique data processing method. Even if the CD is worn out, it can still restore your precious memory.

Tags
Spezifikationen
Kundenfragen und -antworten
Empfehlungen