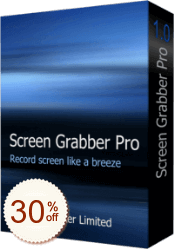 Personal - 1 year
30% off $20.96
Personal - lifetime
30% off $27.96
Begrenzte Zeit:
AceThinker Screen Grabber Pro is a very good screen recording tool for Windows users. It can record any activities on your screen, provides different screen recording modes, and you can record the screen in full screen or a specific area around the mouse cursor. Besides, you can record screen with audio simultaneously and even record webcam video in the process of recording. It also has other useful features: add watermarks to the video, annotation to the video, a built-in video editor that allows editing video immediately, and you can also set up scheduled tasks.

The software is very easy to use. You can select the recording method by clicking the functional recording button. By our test, the video's recording quality is not bad, the video is very clear, and I think the recording result is not bad, so if you are interested in it, you can download it and have a try.

BTW, AceThinker Screen Grabber Pro can make you easily record live streaming videos from popular online streaming sites such as BBC, YouTube, Twitch, etc. You can also set up scheduled tasks to capture web meetings for later watching.

Highlighted Features
1. Supports full-screen recording, and you can use it to make and record tutorials on your computer.
2. You can also record the game playback clips while playing games.
3. Convenient Hotkey: after selecting the range, click Ctrl+F7 to record immediately.
4. When you are playing the game, you can press the hotkey to start recording and click Ctrl+F6 to stop recording.
Tags
Spezifikationen
Version:

Letzte Version

Hersteller:

AceThinker

OS:
Kundenfragen und -antworten
Empfehlungen