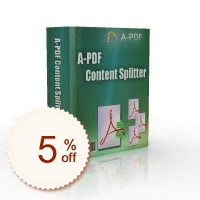 A-PDF Content Splitter 20% sparen
Gutscheincode:
Up to 50% OFF Volume Discount
636 der umsatz
A-PDF Content Splitter
20% off $63.20
A-PDF Content Splitter Service
20% off $79.20
A-PDF Content Splitter is a PDF splitting tool that can split the PDF content according to the keywords you input. It can divide the PDF file into several parts. In addition, it can also call the output name script and hot catalog. It is a very useful PDF splitting tool.

A-PDF Content Splitter provides a powerful split rule editor that allows you to define how the file is split and the unique naming way of the split output file. You can even define and save multiple rules to apply to different files. It allows you to split Acrobat files into smaller PDF files based on the location and text information in the file. You can use it to split compound PDF documents (such as invoices, reports, or payroll) into separate files based on keywords such as invoice number, account number, or employee name. It also includes a command-line version.

A-PDF Content Splitter is ideal for large-scale invoice, report, and payroll systems. A single output file may contain thousands of individual records that need to be extracted and distributed. You can use the text to name the output file dynamically and extract it into a delimited file for data storage.
Tags
Spezifikationen
Version:

4.8.4

Hersteller:

A-PDF

OS:
Kundenfragen und -antworten
Empfehlungen